Our friends over at The Fake Basketball are providing cheat sheets for the upcoming Men's NCAA basketball tournament. Check them out.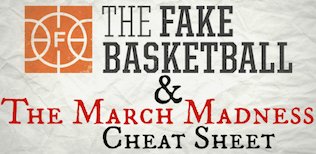 From the Fake Basketball Team:
"Much like last season we are bringing you a wide array of tools and information to help you with any of your NCAA Tournament Fantasy needs. If you are looking for brackets, bracket analysis, individual player rankings, draft strategy, sleepers, locks, injuries, play-in round analysis, you name it, we have it in our comprehensive 2017 Tourney Package."